[CANCELED] Good Business Works Employee Appreciation Celebration
Wednesday, March 18th, 2020 @ 6:00 pm

–

9:00 pm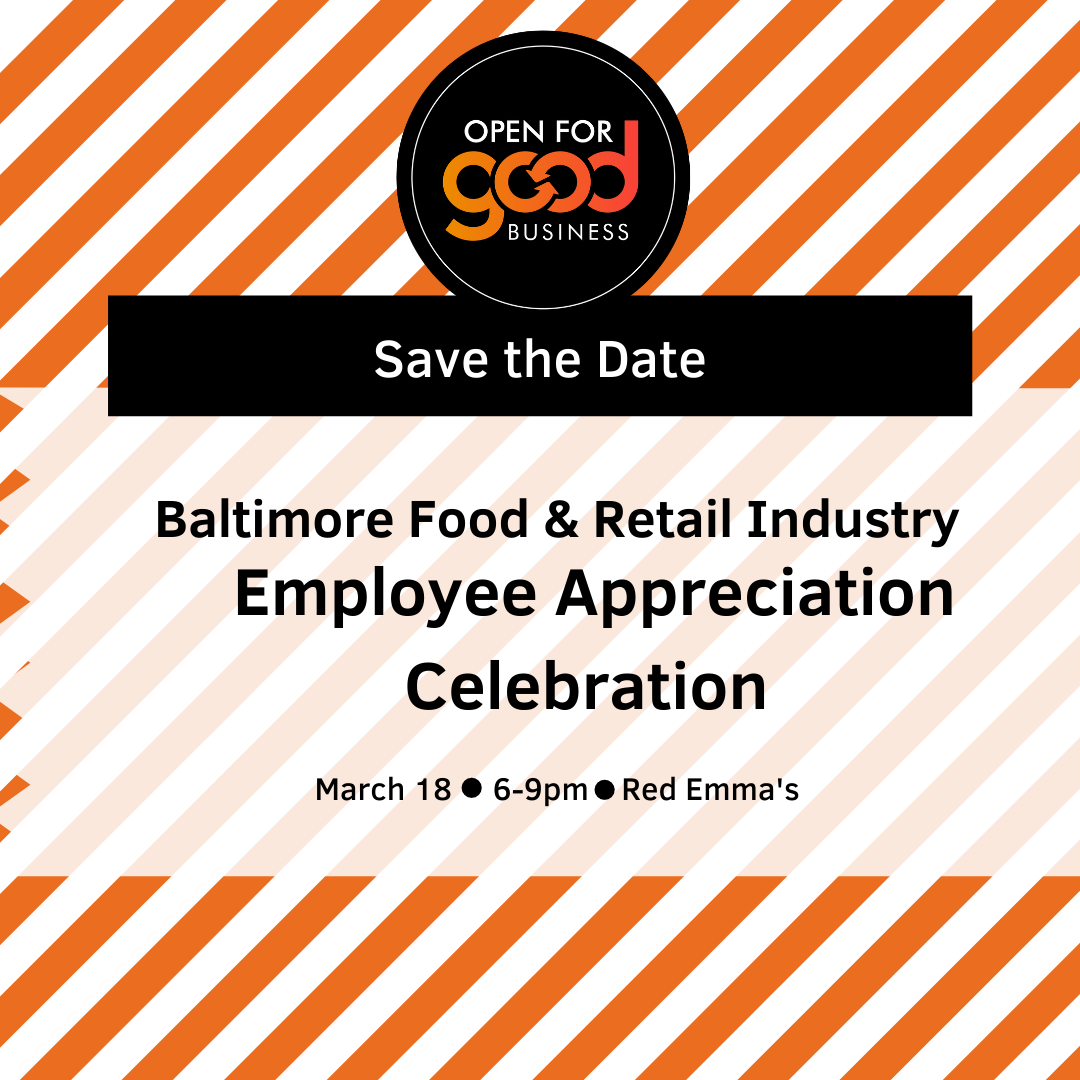 —Due to the growing COVID-19 public health crisis, we have canceled this event. —
We will continue to share updates on this website and our Facebook and Instagram @goodbusinessworksbaltimore with updates about future programming and events as they are available.We encourage everyone to support their local businesses and retail and restaurant workers by:
–Checking in with retail and food workers about what financial and other support they may need at this time, and organizing assistance in your community
–Ordering carry out and delivery as long as it is safe to do so
–Ordering gift cards and from online stores
———
Join Good Business Works and Red Emma's for a night to celebrate Baltimoreans working in the retail and food industries— and a chance to share your thoughts and ideas on how we can make jobs better!
6:00-7:00: Happy Hour in the bar* with free food catered by Red Emma's

7:00-9:00: Feedback session and discussion in the bookstore. (All those who participate will receive a Red Emma's gift certificate!)
*You must be 21+ to drink, but this event and Red Emma's are open to all ages
Over 10% of all Baltimore residents work in food and retail, but their contributions to our local economy, and neighborhoods, and communities often go unrecognized and underappreciated. Good Business Works wants to change the way we treat work in retail and restaurants— and make good jobs good for business. 
Good Business Works is a new network of Baltimore businesses, workforce experts, and community partners who are creating and uplifting strategies to improve job quality, equitable and inclusive workplaces, and sustainable careers in the retail and restaurant industries. We believe employees on the front-lines of these industries should be at the center of changing them, so we want your insights and ideas on questions such as:
What can Baltimore area employers and local leaders do to make jobs better in retail and restaurants?

What do you love about your job that you'd like to see more of throughout the city?

What kinds of resources or support would you like to see for yourself, or others working in retail and restaurants in Baltimore?

How would you like to see the restaurant and retail industries in Baltimore grow and adapt? What ideas do you have to improve the industry(ies) you work in?